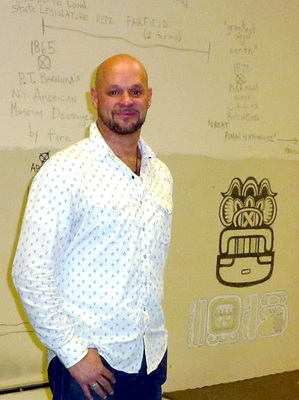 Roberto Martinez was born and raised in the Bronx, New York City, to parents who had emigrated from Puerto Rico. Even as a child he demonstrated a keen interest in artistic production. Some of his fondest childhood memories involved the summers that he would spend with family in Ceiba and San Juan, Puerto Rico. After attending public school in the Bronx he was given a scholarship from Harvard University where he received his BA in Literature (1988). It was during this time period that he became fascinated with the use of temporal narrative cycles in the works of Homer, Virgil, Dante and Joyce. Upon graduating from Harvard, he moved to San Francisco during which time his penchant for art took over his life. He received a BFA in painting and printmaking from the San Francisco Art Institute in 1995. Having decided to return to New York City he was accepted to Hunter College where he received an MFA (1999) also in painting and printmaking. Feeling that there was still more that he wanted to learn about art and its history he applied to the doctorate program at the City of New York Graduate Center. He was admitted to the program and awarded a Magnet Humana Four-Year President's Fellowship.
During this time period Roberto focused his academic energies on the effect of shifts in temporal and historical perception in the early 20th century. He has taken a particular interest in the philosophical work of Henri Bergson and its influence on Cubism and Futurism. Robert has also focused his energies on studying Pre-Columbian art, with special emphasis on the Mayan culture, a civilization, which he feels had a unique and obsessive relationship to issues of temporality and history. He finished his academic studies with an emphasis upon the history of film, especially the works of the Italian neorealists.
In 2001 Roberto was given a solo show, Departures, at the Queens Museum of Art's satellite branch at the Bulova Corporate Center (2001), which ran simultaneously with a mural created for the critically acclaimed Crossing the Line exhibition also presented by the Queens Museum. His work has been included in a number of group exhibitions among them were Nurture art at the Consulate, Hungarian Consulate, New York (1999), Facts & Figures at Margaret Bodell Gallery, New York (2000), and Nurture art at Pfizer, Pfizer World Headquarters, New York (2001). One of his proudest moments came when he was the United States representative for the Macedonian Biennial titled "I/You." As with all of his work Robert addressed issues of temporal context and history's relationship to art and artmaking in a site-specific installation titled Pioneers. He has also been active as a curator and lecturer on modern and contemporary art as well as serving for five years as a member of the board of directors for a the non-profit art organization NurtureArt. He currently lives and works in Manhattan.